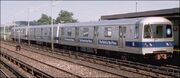 The JFK Express, advertised as The Train to The Plane, was a premium-fare service of the New York City Subway, connecting midtown Manhattan to Howard Beach–JFK Airport on the IND Rockaway Line, where a bus connected to John F. Kennedy International Airport. AirTrain JFK now serves the purpose of this bus, but there is no longer express service to Howard Beach. However, AirTrain also connects to Jamaica with Long Island Rail Road service to Manhattan.
The premium fare was collected on board the cars. The JFK Express used exclusively R46 cars for most of its existence though near its end R44 cars were used when the R46 cars began to enter midlife overhauls.
JFK Express service began in September 23, 1978, and it stopped running on April 15, 1990 due to low ridership, long before AirTrain JFK opened.[1]
At times, regular passengers were allowed on the trains due to disruptions on other services; this included the 1988 closure of the south side of the Manhattan Bridge [2].
Station listing
Edit
The JFK Express used the IND 63rd Street Line, IND Sixth Avenue Line, IND Eighth Avenue Line, IND Fulton Street Line and IND Rockaway Line.
References
Edit